Written by Funn Lim
I will recommend you to watch this series because 3 Kingdoms RPG will be a crash course on TVB's line up of secondary actors who can act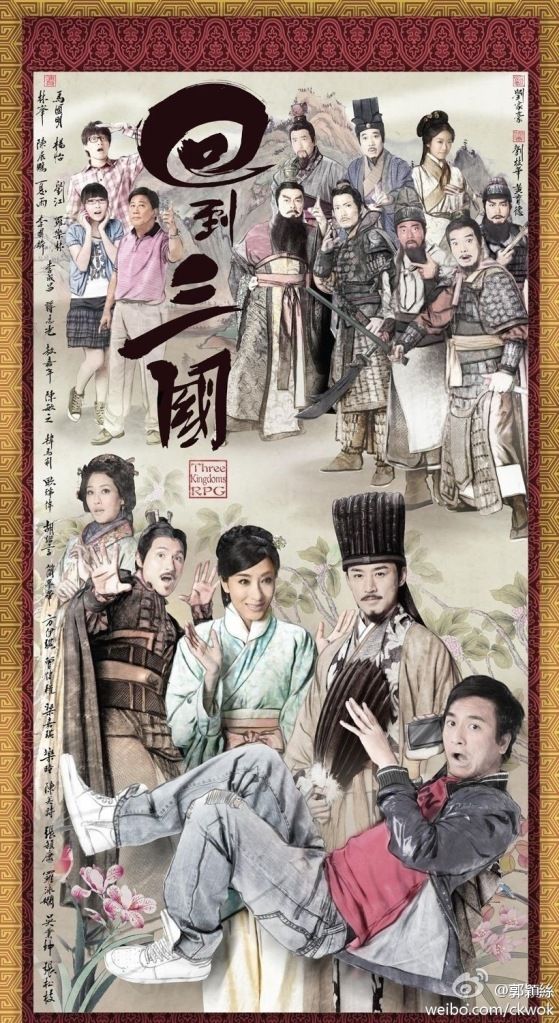 SPOILERS ... SPOILERS ... SPOILERS
"In front of Cao Cao, I, Xu Shu is a mute man"
Well said! Well said!
Secretary for Cao Cao
As Shun says, he will usurp the 3 kingdoms and become the ultimate winner
He will do a lot of things during 3 kingdoms and his grandson will become the ultimate winner
Ahhhh Eric Lee. Still remember him fondly from Bottled Passion as a nice loyal guy but I suppose with a cunning devious face like his, he can never escape from playing villains and here he is Sima Yi who within minutes of his appearance shows to us his cunning mind as well as eagerness to please Cao Cao which I find sort of insulting. Eric Li appears in 2 scenes and 2 scenes only but to me, however I was pissed that Shun isn't Sima Yi, I felt he made his point as Sima Yi. You will know what sort of a person is Sima Yi in these 2 short scenes. And so to me that is a job well done.
Top general of Cao Cao whom Cao Cao hates.
I honestly can't remember.
Lived and prospered
Horrendous performance. I mean that actor, whose name I know now is Lo Mong plays Xiaohao Dun exactly like his name; lo mong which in Cantonese means reckless. Very few scenes but I find the way he recites his lines like reciting lines. And he doesn't look powerful at all as the top general. No wonder Cao Cao hates him. Me too.
Fiction I think
Former adviser of Lau Bei, he was imprisoned for his plot to assassinate Zhuge Liang and then he escapes and joins Cao Cao as adviser and strategist.
Killed by arrows as Cao Cao push Hon Leong in front of him to shield Cao Cao from the arrows at Chibi battle.
He will be buried in a mass grave, his name forgotten which was what he didn't want.
Another veteran that we often seen, a very versatile actor in an appropriately prominent role. In fact of all the secondary characters, Hon Leong has the most scenes and fantastic performance! He really plays this character's disgusting-ness so to speak to perfection. I felt like slapping his Hon Leong and I felt no pity for him when he died.
That scene where Shun was thinking the possible outcomes if he confronts Hon Leong about the official reports Hon Leong taken to threaten Shun in front of Lau Bei and this actor, Lee Shing Cheung's expression was very funny and also well delivered.
He is the assistant adviser to Cao Cao though he just appeared out of nowhere. He was Zhou Yu's classmate with a friendship dating back to about more than a decade ago. So he felt really betrayed when Zhou Yu tricked him into delivering a fake message that led to the execution of Choi Mao and Zhang Yun who would have helped Cao Cao to win the battle of Chibi. Ridiculous of course. What betrayal? Like Zhou Yu says, his heart, soul and body is with Dong Wu. Zhou Yu was smart, a bit conniving, but nonetheless very smart.
He didn't die.
When Cao Cao returns to Jingzhou, he will execute Jiang Gan because he was the one who guaranteed Pang Tong was really willing to pledge his allegiance to Cao Cao when he didn't.
He looks the part and plays the part well. I kinda often confuse him with the other 2 actors acting as Jau Ping and Kong Yuen.
Aka Eastern Wu
Lord of Dong Wu, later Emperor of Eastern Wu (not seen on screen), I refer to him as King of Wu
Won the battle of Chibi and ran off to kill more Cao Cao's soldiers. As to the final end, ask TVB
He becomes Emperor, goes senile and dies. That in itself should be another 30 episodes.
I have a soft spot for Pierre Ngo. He is a fine actor. Looks wife, maybe lacking and way too thin but his look in this series to me is the best. His costume has so many layers so he looks just fine. I love his pointy beard even though it makes him look older than he should be at that time. I would have hoped for a less pointy beard because he looks good with beard. His costume is the best next to of course Law Lok Lam's Cao Cao and though his head gear is nothing near Qing Shi Huang Fei, it is however commendable. I was waiting for so long for Sun Quan to appear since like Cao Cao, he is often talked about before he appears. Whilst I am disappointed with how his character matured as a ruler (way too short and soon) and how he ended up being Zhuge Liang's spokesperson (his worst moment but that is the script's problem), generally he didn't disappoint. He looks like a young ruler, but one who is cunning, smart and a hint of power. I feel if there is a series about Sun Quan, Pierre Ngo should be cast again and this time show Sun Quan's story properly. His only problem with his performance is due to the script. Other than that I can't fault Pierre Ngo excellent performance.
A few. One would be Shun accusing Zhou Yu of murdering Deng Song but look at Pierre's Sun Quan; shifty eyes, nervousness, everything to show a guilty man in his body language. Another would be when earlier he was asked who was the man who held the record for the farthest arrow ever shot, and he quietly answered "My brother". At that moment he senses he is capable of far greater things than his much greater brother, Sun Ce. One more would be his scene with Tam Bing Man, who is perhaps the most veteran of all veterans. But my favourite has to be when he chopped off the corner of the table to remind the ministers who is the ruler. He radiated power at that moment.
Commander of the army, chief adviser and strategist to Sun Quan. A rare combination, since most strategists are not commanders. He has the distinction of being all of that.
He lost his battle for glory and trust of Sun Quan to Zhuge Liang, and unfairly so and he squeeze his chest, either he is so angry he is having heart pain or he will die of heart attack. Ask TVB if you want to know more because this version of Zhou Yu bears no resemblance to all I read about him whether in fiction or in history.
Heart attack? Though in real life he did die of illness and was buried grandly, credited with forming Eastern Wu where Sun Quan gace him due credit, unlike this series want to imply.
The 2nd most defamed character in this series, except he got it worst because it goes to his character. Is Zhou Yu that small minded jerk? Why is he unfairly ripped off his glory when he planned everything? I know the rivalry between Zhou Yu and Zhuge Liang is a main thing in the book but the way this series goes, knowing Zhuge Liang is some wide eyed innocent that everybody loves (except Zhou Yu), Zhou Yu has got to be the ultimate bad guy between them and it is so unfair. So kudos to Ruco Chan for actually managing to show us more of Zhou Yu than the script allowed. Did Ruco read the script and go "What the hell is this nonsense?! No, I must show the viewers the real Zhou Yu in anyway I can!!" and so he sneaks in some good points about Zhou Yu for us to see? Because I swear, I don't see Zhou Yu as bad as Shun or anyone else sees him. I understand Zhou Yu has his reasons, and yes he may hate Zhuge Liang, he may be petty, he may be a jerk, he may be a jealous guy (cue John Lennon's song!) but in the end he is a rather cunning strategist. All those hate for him from Camp Lau Bei is unfair, and the final insult by Sun Quan is the worst of all. Only Pang Tong and Huang Gai seems to be on his side. Anyway like I said, a credit to Ruco for managing to show us all these sides. He looks good in his costume, and he does look a bit like V For Vendetta's mask, but he delivers his line clearly and with conviction that sometimes Raymond Lam lacks. I like his scenes with Pierre Ngo. I am becoming quite a fan of Ruco if he keeps giving such performances without being afraid to show the ugliness of his character and yet manage to sneak in some redeeming qualities that the script tries to hide.
Zhou Yu, I am on your side!!
Difficult to pinpoint one but I suppose when he fake argued with General Huang Gai and Pang Tong.
Mother of Sun Quan. Poor woman, husband died, eldest son died, and now left with 1 son.
Alive and well.
Funny entrance scenes every time she is introduced, and she gets the best line as in "I am not deaf, no need to announce so loudly!". Competent performance. No other comment.
One of 2 most beautiful woman of the land at that time, married to Zhou Yu.
I suppose she lives to annoy everybody else for another day. Anyway ask TVB.
She got re casted by someone more classically beautiful, suffers amnesia and wakes up elegant, sophisticated and kinder.
Sharon Chan is a total miscast as the most beautiful woman in the land at that time. But to be fair to her her character is so one note, so underdeveloped, all we can see is a spoilt brat doted by her husband and nothing more. I suppose I expected more class and elegance but all I get is a spoilt brat doted by her husband. I feel the script has been unfair to Xiao Qiao, since her character is mainly used to draw a difference between her and Yuet Ying which is most unfair. I felt when Sun Quan compared her to Yuet Ying which I understand why, I don't however agree with the comparison. This is because Xiao Qiao is more like the women during that time, maybe less spoilt and more elegant. Not every woman is normally like Yuet Ying, being smarter than her husband.
Not sure.
General at Liyang with 4 sons
Killed by Sun Quan during a drunken quarrel of sorts
Where is his body? What did Zhou Yu do with it? Really threw it into the sea?
I never in my entire life expected Tam Bing Man to appear in this series and since I did not follow the filming news and the cast list never said so, I was caught off guard when Tam Bing Man appeared. I laughed rather hard because it shows to me TVB really had to dig deep to fill in all the male roles. Already the young-ish ones are played by actors much too young for their roles but Tam Bing Man fits the character. May I say, best special guest appearance thus far and in any series thus far and his performance blew everybody away. The lines he delivered, the way he speaks his lines, his looks, expressions, body language, you can see Deng Song is a very egoistical man who has miscalculated his moves in having a low opinion of Sun Quan and tried to bulldoze Sun Quan. Excellent performance.
When he insulted Sun Quan by referring to Sun Quan crying when he was hunting with Sun Ce and keep comparing Sun Quan's bravery and manliness to that of his far better, greater, manlier, braver brother (in the eyes of Deng Song) and to which Sun Quan, a great acting moment by Pierre Ngo quietly says "I was only 8 then".
Not sure.
Eldest son of Deng Song
I suppose he went to look for his father's body since he has no part to play in the battle at Chibi and later return to Liyang as the new ruler of sorts.
Always seen, know his names, super serious appearance, competent.
Adviser and strategist and considered one of 2 best students of Sui Geng, equal to that of Zhuge Liang
Not mentioned but I suppose he dies in prison at Jingzhou after severely beaten on the orders of Hon Leong
He didn't die but escaped back to Dong Wu with hero's welcome and then transformed as a real pheonix and co starred in Harry Potter movies and achieved great fame. Yeah, that would be a great version!
I don't know who he is, very brief appearance but he looks the part of a strategist actually. Pretty sad character and a competent performance. He does look handsome although I read Pang Tong in real life isn't handsome.
Respected elderly general at Dong Wu
Not mentioned but I will say he probably sacrificed himself when his ship filled with kerosene was set on fire and deliberately rammed into the linked ships of Cao Cao at the battle of Chibi
I always remember him as a ballroom dancer, since that is what I heard he was before turning to acting? He is much too young for this role so he had to have white beard stick to his chin and looking not quite convincing. BUT he gave a great performance as the super patriotic Huang Gai, with dignity to boot. Love his performance however short it was. Probably because of his unconditional loyalty to Zhou Yu's plan.
Assistant adviser in Dong Wu, he seems independent enough away from Zhou Yu but in actual fact his position seems to be below Zhou Yu.
He lives to see glory at Chibi.
Hopefully he gets a huge promotion and pay rise. In reality, he did.
This character is one of my most favourite character in this series. He may seem a tad too young because every strategist I see I thought they should be old and wrinkly. What I love about Lu Su is he is wise, brave and with great foresight. He seems to be the only one in Dong Wu who sees into the future and sees it very clearly. The actor is someone I often see, as office boy, etc. A handsome guy with fair skin and rather well built, he looks really good with the goatee and moustache and gave off a very respectable aura, someone who is indeed wise and knowing. I could see him in a wuxia series because he does look good as an ancient person. His performance was to me excellent and a breath of fresh air because he looks the part and speaks the part. Great thing is he doesn't move as much as Raymond Lam and so tends to be less distracting. His Lu Su is one of the few who has a lot of role for a secondary actor and he displayed the right amount of anger, fear, stunned into silence, etc. Fantastic performance.
Zhuge Liang, no. 1 best of the best adviser strategist the world has ever known, back then and this series follows the book and so he is also famed for his rivalry against Zhou Yu and also his abilities in commanding the weather and what nots. Basically he is the Z man in my book but in this series, Z as in last because he is nothing like we all come to know and love of Zhuge Liang.
He got his comeuppance against Zhou Yu and winning universal applause by everyone over at Dong Wu's side including Sun Quan and gets proclaimed as the best number 1 numero uno nombor satu tian xia di yi strategist the world has ever known and will ever know after borrowing the eastern wind and won the entire Chibi battle with his borrowed wind so to speak and so screwed over Zhou Yu a million times over.
I wish TVB had told the proper Zhuge Liang version because if like that then he is indeed worth of "the best number 1 numero uno nombor satu tian xia di yi strategist the world has ever known and will ever know" title.
The number 1 most defamed character in this series and that is Zhuge Liang himself. If Zhou Yu's defamation is as to the integrity of his person, then for Zhuge Liang it is as to his intelligence itself. There is no question about his integrity. He is a nice guy from 1st till last appearance. The problem is this Zhuge Liang has no personality. I thought he was smart at Bok Mong Slope but in the end everything after that was just ridiculous. His ideas are not original but comes from his much smarter wife and a cunning best friend. Without them, his ideas or non ideas nearly caused his best friend his life! The most inept of all inepts. So basically the script and characterisation itself is a major problem. Another problem is Raymond Lam. He looks handsome in the part but I am sick of his near whispering of his lines, or rather breathy whispering of his lines. At first it sounded exciting, almost seductive, but when his character was just inept and a nervous wreck as Lau Bei, I was very annoyed with the way he spoke his lines. It was like no fire power. Then there's the whole body language. When he was sitting down, that was his best scene. But when he was standing up, he moved too much, too deliberately with such calculating precision, as in move left, move right, one two three, move up, move down, that it becomes almost predictable that was how he will move. I find him becoming less and less natural. I hated the way Zhuge Liang is being played as so straight laced. But Raymond Lam was already given an impossible character; it was such a badly written character I do feel some pity for Raymond. But ultimately my pity lies with the real Zhuge Liang whose character has been assassinated so many times in this series that he is now portrayed as someone so undeserving of any accolade because he was actually so inept. Not dumb, just inept.
Two and both before the real assassination begins. One is sitting down and when Shun questioned why he married Yuet Ying and he gave Shun that killer look. Two is him confronting Shun to mind his own business when he found out Shun was the one who suggested Zhuge Liang to marry Lau Bei's niece.
Everything after that 2nd best moment, especially when Lau Bei turned into a nervous wreck and our Zhuge Liang also became one as well.
Fiction
Beloved maid of Lau Bei, as we are often told he sees her as his daughter.
She travels to modern day HK and floats down and walks to a dead Shun and touches him gently on his cold cold cheek and then she cries.
She will probably then walk to the end of the cliff and jump to her death as the love of her life is dead.
She didn't jump to her death, she goes to Shun's company and become CEO and takeover the world as the numero uno tian xia di yi businesswoman. Yeah right!
That she died, entered the portal as a spirit. This is a science fiction series, not a spirit/ghost series so this theory doesn't work.
Tavia Yeung is a competent actress and a very good one when she is not in the spotlight. Problem is when she is in the spotlight, she doesn't give me a feeling she can lead a series as she has zero charisma. But that is not the problem in this series. As Song Yau, for the first time I do feel her talent is wasted. What Chinese says as "dai choi siu yung". She is better as an actress than to be stuck as Song Yau who basically serves as Shun's love interest and not more, and even then she spends most of the series away from her as the romance never started, at all. Even in the end she never got to hear Shun say he loves her as when she finally sees him again, he is already dead. Her role is to serve as a tragic romance story or more to the point, for Shun to pine to return to 3 Kingdoms, for her which many will find ridiculous since he seems to have more love for his BFFs Zhuge Liang and Fan Kan rather than Song Yau. But like I said, it is not the love story that I hate. Basically Song Yau is a really nice girl, and Tavia portrays her well in the sense when I expected her to cry like mad, she didn't. She was rather classy as Song Yau and often I find her voice at the brink of a sore throat since it was almost whispering breathy croaky sort of voice, like she has a permanent cold and sore throat. However Song Yau is a waste of Tavia's talent. She should have been Yuet Ying who has more role and more important things to do even if it will be infuriating to Zhuge Liang's fans. It doesn't help also that Tavia is supposed to be very young but looks much more mature than most who are supposed to be older than her. She also wears too much makeup that she looks like she is starring in some Chinese opera show. I don't see the need for so much makeup. One thing true though is her Song Yau is not supposed to be attractive or pretty, but is of course not as plain as Yuet Ying. But the worst is still the fact that Song Yau has not much to do in this series and even Shun's change into a better person is not due to her. So basically she is just in this series billed as the leading actress but in actual fact her role is no better and even less important than the secondary actors and minor roles.
I suppose when Shun told her he doesn't love her, her pain, her shock, her everything right there to be seen, except I totally expected her to cry hard but she didn't so that surprises me in a good way.
Joseph Lee Kwok Lun as Lau Bei/Liu Bei (Xuande)
Leader of Xinye, later Jingzhou from the way I see it, he is the respected "Imperial Uncle" Lee, brother of Guan Yu and Cheung Fei.
Lives to see another day
He gets therapy for his jumpiness and several almost nervous breakdown and actually becomes calmer and less stressed.
Lee Kwok Lun is a veteran of many series and he is chameleon-like. With almost the same look in King Maker, he is however more devious in that series. In this series as Lau Bei, he is supposed to be a charismatic benevolent leader. The problem is his Lau Bei is not charismatic though he loves his people very much. I am not convinced anyone will follow him to war and to death because he panics so easily, he looks worried all the time and he often sacrifices his integrity and poor Song Yau's integrity for his own purpose which makes him a coward most of the time. Of course the series didn't really want to depict him that way but he is that on screen. His only moment of personality is when he is angry with Song Yau for rejecting a marriage proposal and I thought he was making a mountain out of a mole hill. In other times, to be kind I may say he is annoying, if I am being truthful, he is just not Lau Bei. I know in history Lau Bei is often depicted as sometimes stubbornly too compassionate, not the smartest guy out there but still there should be an aura of greatness, of leadership, of some masculine elegant dignity. That will explain why Guan Yu and many others never depose of him but followed him. That is one factor Lee Kwok Lun could not portray well. I just don't see that leadership aura. This Lau Bei is for me the 3rd most defamed character in this series, and Lee Kwok Lun's portrayal whilst competent as someone else who has an impeccable timing for comedy and sometimes as serious drama, as Lau Bei he fails miserably.
When he was discussing Lady Choi, he slammed down his fist and scream sei pat poh. That was seriously funny!
Between him going nuclear over Song Yau not wanting to marry to actually forced Song Yau to apologise for stealing from Xiao Qiao when she didn't, I will say the latter. That was when I lost all respect for him. Also the moment he and Zhuge Liang went nuclear over something. He panics way too easily.
He's Guan Gong. Enuff said!
Lives to fight another day as he ran off to kill more Cao Cao men and to capture Cao Cao himself.
He dies but that would be a long while later. In reality, Sun Quan had him beheaded! That would make better drama than this drama!
Sorry to say but first, the script trivialise the role of Guan Gong to the point he is just there, as a more glorified ke-le-fe. Secondly, whilst I have no complaints about the stature of the actor, my main complaint is rather that he basically has very little thing to do or even to say. I don't see him as Guan Gong, just that just recently sun burnt dude next to the dude who in modern world may be the biggest fan of a tanning bed.
The short tempered and not so smart General Cheung, brother of Lau Bei and Guan Yu and like I said above, looking like he just stepped out of a tanning bed. Famous for that fierce looking face coupled by fierce looking eyebrows with a fierce personality.
Lives to fight another day as he ran off to kill more Cao Cao men and to capture Cao Cao himself.
He dies but that would be a long while later. In reality, he was betrayed by his own men and beheaded!!
This is to me as spot on a performance as any actor in this series can get. He does personify the basics of the Cheung Fei we all know and he has a lot of lines, so he is the standard secondary character so to speak. No complaints here over his performance except the character can be very harsh at times.
The 4th brother of the official trio of brothers, he is supposed to be the handsome brave General Zhao who dresses in white riding a white horse. Just don't expect the white dress or white horse in this series.
Lives to fight another day as he ran off to kill more Cao Cao men and to capture Cao Cao himself.
He has a white horse.
If Au Siu Wai is a glorified ke-le-fe, Deno Cheung is the missing ke-le-fe in scenes when he should be in it. It was a role that TVB could have just not write in and not film because he was mostly missing and when he is in a scene, he is more like that soldier rather than the General Chiu we all know. I mean even in the book he is lacking scenes but this series takes the "lacking scenes" to new height. Poor Deno, often cast as the bad jerk somebody next to the villainous somebody else, he finally has a good guy role, a guy so good he would sacrifice himself to save Lau Bei's baby, E-Dou but even that pivotal all important scene was somehow managed to be turned into just another typical rescue scene that did not justice to the level of emotion, sacrifice and integrity that General Chiu and even 2nd wife of Lau Bei displays. Poor Deno does look like he walks around looking worried rather than gallant. Poor guy.
First wife of Lau Bei and mother of E-Dou.
Lives at the temple to take care of her son E-Dou
She takes up a sword and joins the fight against Cao Cao. Like that would ever happen unless her name is Mulan and even that is wrong dynasty.
No comment except her speech is too lazy for my liking. Also does not remotely look like a respected 1st wife of Lau Bei and much too young for this role.
2nd wife of Lau Bei and master of Song Yau.
She sacrifices herself so as not to burden General Chiu who was trying to battle hundreds of Cao Cao's men to rescue her and the baby E-Dou.
TVB told you the version they want to tell you but it would have been more dramatic if she jumped into a well.
Absolutely annoying when she first appears and her performance was abysmal, as time goes by right up to her big sacrifice scene which was to me badly filmed because I felt zero emotion and it could have been better presented (more blood? More pain? More speech?), she became less annoying but performance was still darn weak. I find her lacking in grace, elegance, etc as a wife of a respected leader and much too young for her role.
Fiction
Maid of Wong Yuet Ying
No idea. Stayed back with Yuet Ying I suppose.
She becomes 2nd wife of Zhuge Liang? No?
No comment except she is a far better actress than that actress as Lau Bei's 2nd wife.
Scolding Yuet Ying for her self pity, but in a more frustrated way rather than angry way.
Only wife of Zhuge Liang, rich man's daughter, supposedly ugly but supremely intelligent and always sickly until she met Wah To.
Waits for the return of Zhuge Liang so that they may retire to their hometown after the war
Yuet Ying is the real Zhuge Liang in disguise and whilst the impostor Zhuge Liang came back and never retired, poor Yuet Ying can never retire from the world of politics and shall continue her disguise and serve as the impostor Zhuge Liang's adviser in all matters of politics whilst doing wifely duties. Her health became worse when Wah To went missing but Zhuge Liang still pushes her to do more; "Honey, just that one more book, just that one more strategy, don't die yet" and finally when the impostor Zhuge Liang dies, she resumes her real identity with the help of a fake beard and went on to become chancellor for Lau Bei's son and goes down in history not as Wong Yuet Ying, the forgotten ugly wife but continues the legacy built through the fake Zhuge Liang.
I have made it clear that Tavia Yeung should have been Wong Yuet Ying. She is plain looking, but not ugly as many describes Yuet Ying to be. Her Yuet Ying is smart (too smart that overshadows Zhuge Liang), calm (too calm that overshadows Zhuge Liang) and quite ladylike (with a tinge of gracefulness and elegance that neither wives of Lau Bei has). However her acting is limited to either exceedingly happy (the smile) or exceedingly sad (that tiny pout) with a mousey sort of voice which I find unconvincing and lacking in conviction when she delivers her lines. She does have good chemistry with Raymond Lam but not the wifely sort; they felt more like a very old couple who respects one another, not newly married and hot blooded. But then the script never calls for that aspect. Not one kiss, plenty of hugs, but even more "apart by few metres" scenes where she sits next to him looking at him looking at books then advising him and matters solved. The main problem is the series tries hard to show they have such great academic chemistry together, she being the smart wife of a smart husband, thereby they were meant to be together. However the way the series presented it, he goes to her for advice, or she thinks of an idea, hints it to her husband and he then goes eureka and then she says that they just think alike when it is obviously her idea, her hint and he just hijacked it, much like he did with Sima Shun's ideas who Sima Shun thought was Zhuge Liang's idea in history. By making her so smart and capable, it diminishes Zhuge Liang as someone brilliant. And I don't like how her character was at first disliked by others just because she is ugly and sickly, which to everyone does not seem to be the sort of wife they thought Zhuge Liang should ever marry. Anyway ultimately I have to say yes she did a competent job but seriously, 5 minutes after her scene ended, I had to struggle to remember her. I find her not memorable at all when this is to me the main female character with her importance in the scenes and the only scene I remember about her vividly is her worst acting moment due to the most inconsistent scene.
When Zhuge Liang found her at the village when she ran away and she was perfectly blissfully happy alone and she sees butterfly I think and goes spinning round and round smiling happily, so happily that I never seen her smile so happily until she saw Zhuge Liang and she stopped and she frowned and cried and reconciled and thereafter never smiled to blissfully happy after that. Which shows she is happier away from her husband. What an absolutely illogical, inconsistent scene because it made absolutely no sense from the scene before and the scene after except to show us that Zhuge Liang sees the beautiful carefree side of his wife. And that itself is wrong.
Fiction
Farmer then soldier, best friend of Sima Shun
He runs off to capture Cao Cao as he said his final goodbye to Shun not realising that will be the last time he will ever see Shun
I wanna know also!! What happened to him in the end? Did he marry? How did he die? Did he become like a great general? WHAT HAPPENED?! TVB TELL MEEEEEEEEEEE!!!!!!!!!!
My most favourite character in this series, I have no idea who is Jonathan Cheung until this series. Maybe I have seen him before but this is definitely an eye opener. Not necessarily the best performance but certainly a rather sincere one. I like his Fan Kan who is loyal, faithful, compassionate and will let Shun know when Shun is wrong. You see his progression from simple minded ancient man to a smarter wiser guy. I like the way Jonathan Cheung delivers his line like someone who is simple and yet not stupid, often pressing his lips as he speaks his line to emulate somewhat like a child speaking. There is sincerity in the way he delivers his lines, and I could believe everything he utters and whilst his Fan Kan's role basically isn't much, all of his scenes are put to good use. Not a scene or line wasted with Fan Kan and kudos to Jonathan Cheung for making Fan Kan a believable person.
Every single scene he is in.
Real or Fiction
Assumed fiction
Beautiful learned gentle niece of Lau Bei, suggested by Sima Shun to be married to Zhuge Liang as 2nd wife
She had to say yes even though she doesn't want to but in the end the intention of the betrothal was cancelled when Zhuge Liang refuses.
Pretty - yes, graceful - probably, mediocre performance - yeah, not much role - absolutely true.
No sure.
Good friend and assistant to Zhuge Liang
I always confused him with Jau Ping. Anyway halfway through the great march to Lau Kei's province, he ran away into the forest to seek out a life of existentialism I suppose with his other friends in the forest and play no more part in the wars to come. COWARD!
He regrets his action and in Battle of Chibi he leads a million of his other cowardly friends to undo his cowardice.
No comment since I can't even remember his face.
Not sure.
Good friend and assistant to Zhuge Liang
He stuck by Zhuge Liang, that's what matters.
He kills Kong Yuen for being a coward.
No comment since I can't even remember his face.
Fiction
Guzheng player at a local restaurant that Shun likes because she is pretty
Chased away by Lau Bei's 2 wives who wanted Shun to be 100% into Song Yau. Anyway she and her father voluntarily left anyway.
If Shun stays back in 3 kingdoms, he would have married her as 2nd wife.
No comment.
Fiction
Son of a high ranking minister, intention of betrothal to Song Yau
He married someone else and treats her with love and respect
He marries Song Yau as 2nd wife when Shun disappeared into the portal and becomes a powerful minister and dies before Song Yau reenters portal.
No comment except like Shun I thought this Chi Him is too good to be true and he turns out to be very true! At least he plays a good true gentleman in the few short scenes.
Perhaps, one of the most well known Chinese physician ever, his ability to cure any illness was legendary, whether for real or not it is up to your own interpretation
Still a physician around town where Lau Bei is, servicing Yuet Ying I believe and curing her
Cao Cao kidnapped him to cure his own migraines and subsequently kills him when he fails. I think this is the book version.
Familiar secondary actor that you will always see but can't quite remember where. Amongst the secondary actors, he is considered ke-le-fe in the context of his casting. Anyway I was thinking when Hua Tuo will be introduced and his introduction was rather funny in this series. He looks the part, for the very little time he had, he was effective and believable as a young Hua Tuo. A competent performance.
I didn't know why Chibi aka Chek Bik is Red Cliff because whilst my Cantonese is good, I am however not great at certain traditional words. Someone who shall remain nameless said to me Chek = Red in a more formal sense of word but don't go around calling red aka hung as chek. And so I have a new vocabulary added to my library of volcabulary.
You actually finished this review? Congratulations... or rather thank you very much for reading everything. If you skipped to this part, thank you anyway for picking and choosing whichever part of this review you wanted to zoom into. In other words, thanks for reading.